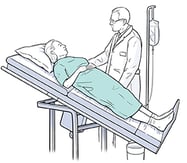 In any urology practice, critical questions related to what services to offer, who will provide them and where the services will be performed are the foundation of practice management. When establishing or managing a practice, one decision you must make is whether urodynamics (UDS) is a foundational and core offering the practice will offer or an ancillary service. As with many things in urology, the answer is not straightforward and in reality, it is a little bit of both, though I tend to think of UDS as an ancillary service for most practices.

Core services urologists must offer include basic history and examination ability, cystoscopy and access to and interpretation of relevant lab and/or radiologic studies of the urinary tract. A urologist who cannot offer these basic services is really not practicing urology. UDS is an important test that urologists offer; however, a urology practice can exist without offering UDS and still thrive.

Not offering UDS will limit providers in the management of voiding dysfunction in men and women, incontinence in men and women and potentially BPH in men. On the flip side, many of these disorders can be managed without needing to perform UDS frequently and some providers may find they can handle most of the cases they see without UDS. Eventually, however, some patients will require UDS and this will need to be outsourced if not considered a core offering. Using a company like Brighter Health Network (BHN) to provide urodynamics testing as a turn-key service, is a great way for urology practices to provide urodynamics to patients without having to purchase expensive equipment, train staff, and handle all of the other logistics required to offer urodynamics. If you want more information on BHN's urodynamics testing services click on the button below.
Ancillary urologic services include in office ultrasound, including prostate biopsy, erectile dysfunction injection testing, administration of medications, such as drugs for prostate and bladder cancer and UDS. Many practices find offering UDS an attractive ancillary service, as it has excellent reimbursement, can be performed by trained non-physician staff and the physician is only present for the key portions of the exam, and it allows practices to manage a wider array of patients with voiding dysfunction that without.
Ancillary services help practices both recruit patients, as the wider array of services will lead to more referrals and greater patient satisfaction, and they serve as an excellent source of revenue. Most urology practices would be well served to consider offering UDS, especially if there is a wide array of voiding dysfunction seen the practice. Nonetheless, I would consider UDS an ancillary service and not a core service a urologist should offer.