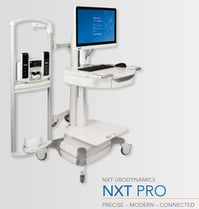 Disclaimer: I have not used the new system myself and relied upon colleagues who have for reviews. Additional information is from review of Laborie's marketing materials.
Laborie's new NXT Pro urodynamics (UDS) system has a variety of features designed to make the user operations simpler and more intuitive. In addition, technological enhancements allow automation of several aspects of the exam and Bluetooth connections to monitoring devices.
The primary advantages of the newer systems include a lower profile to the instrumentation array; greater digital control of the software running the exam; wireless connections for the catheters between the patient and the workstation; and automatic control of catheter pulling for urethral pressure profiling. Providers who have used the system find the Bluetooth connection between the catheters and the workstation allows easier patient movement, especially during pressure flow examinations. In addition, the software can automatically control much of the exam, including patient prompts and a better touch screen interface for use on the workstation, as opposed to needing to use a mouse to annotate the report. The catheters are easy to insert into the receiver for signals, with one click as well, so ease of use for the person performing the exam is enhanced.
Some of the disadvantages of the new system include the high costs associated with upgrading to a newer technology. In addition, some providers have found the Bluetooth connections to be prone to errors, encounter regular disconnects, and have lesser reliability than typical wired connections. This is not surprising, as wired connections in many other arenas are more robust than wireless connections. Furthermore, this system requires the use of air charged catheters, so some situations are hindered by this, especially scenarios where catheter placement in the patient is a challenge. Finally, some providers have commented that the newer machines do not appear to be as robust or sturdy as the older systems.
Overall, there are several enhancements in the new Laborie UDS system that are worthwhile and as technological improvements continue and these systems become more reliable, the expense of the new system may be justified. Many providers will find their existing equipment is suitable, though, as the primary benefit appears to be ease of pressure flow via the Bluetooth connection to the patient and the catheters.