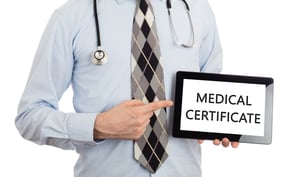 As with many aspects of medical practice, a solid training foundation is critical to best practices and the safe delivery of care. When it comes to performing urodynamics (UDS), as with many other procedures, the question of what level of training is requisite to perform UDS appropriately is a reasonable one. And the natural extension of this is whether or not a specific certification process is warranted to perform UDS.
Foremost, let's consider the current state of certification for UDS. In the National Health System (NHS) in England there is a program providers can take, which offers attendees a certificate in performing UDS. To my knowledge, there is no requirement that such a certificate is needed to perform UDS in the NHS. This is aimed at providers with minimal skills and experience with UDS and to improve their familiarity with performing UDS and interpreting the results.
In the United States, there is no formal certificate program for doctors to perform UDS testing. Graduates of US residency programs are required to perform a minimum of 10 UDS studies, which by no means would render someone an expert in the field; however, this is clearly a target to suggest a minimum for competency in practicing physicians.
Numerous groups, both local and national, offer courses in UDS and additional training. Such training is offered by the International Continence Society (ICS), American Urologic Association (AUA), Society for Urodynamics and Female Urology (SUFU), and Brighter Health Network (BHN). Clearly numerous opportunities exist for providers to gain education in UDS, through a variety of channels.
In reviewing the joint AUA/SUFU Adult Urodynamics Guideline (Winters et al, 2012), there is no specific mention of training and/or certification in discussing UDS testing. That document outlines criteria for the appropriate use and performance of UDS and which cases may benefit from the data UDS can acquire; however, it does not proscribe any particular training or certification on providers.
On the side that would support certification, such training would insure minimum standards in the field. It would offer accountability to providers in the field, to insure they are practicing in an up to date and data driven/guideline supported manner. On the flip side, since most providers perform UDS under the auspices (at least in the US) of a US residency trained provider, there are minimum standards set during urology training for the performance of UDS and that is a reasonable standard for providers in the field to work under. Furthermore, as a low risk test and a commonly performed test, providers performing UDS in practice likely obtain ample training and have sufficient supervision on the job, where standards and skills can be promulgated. Furthermore, additional burdens of certification, both in terms of time and cost, are a serious issue confronting many fields and the addition of a UDS certification is likely to meet pushback from providers.
Overall, given that urology providers must learn UDS to graduate US residency, many providers who perform UDS are either fellowship trained in female urology/have substantial UDS training, and that providers who perform UDS in practice are often very experienced, it seems the addition of a formal UDS certificate seems excessive at this point in time. There are ample opportunities for those with weak UDS skills or seeking additional training to receive education from groups such as the AUA, ICS and SUFU. Given these opportunities and the nature of who performs UDS in practice, additional certification at this time does not seem necessary.
If you need access to skilled urodynamics nurses that are already fully trained and capable of performing urodynamics in your practice, you should review BHN's staffing options. To get information, click the button below:
References:
Winters, JC, Dmochowski, RR, Goldman, HB et al. Adult Urodynamics: SUS/SUFU Guideline (2012). https://www.auanet.org/guidelines/urodynamics-guideline accessed June 16, 2019.