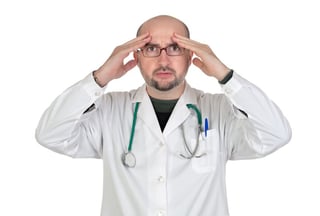 Urodynamics testing is as much an art as it is a science. Unfortunately, there are many variables inherent to the way testing takes place that can lead to poor results. Here, how to know whether your urodynamics test results are poor will be discussed.
Results Are Not Reproducible
Although patients (and nurses) generally wish for urodynamics testing to be completed as soon as possible, tests should be performed in triplicate to ensure best results. If the traces are not reproducible, the test should be completed on a different day, as lack of reproducibility is a key concern for the veracity of the testing protocols.
Results Do Not Correlate with Patient Concerns
Patients should complete a detailed voiding diary that includes all the patient's concerns about his or her bladder function. It is important that the symptoms be replicated during the urodynamic testing procedure. If the specific problems are not reproduced, urodynamic testing must be performed a second time to create the best treatment plan.
Baseline Pressure Measurements are out of Range Prior to Testing
Before testing can begin, it is important to recognize whether baseline pressure measurements are within appropriate ranges. According to the International Continence Society on Good Urodynamic Practices1, baseline pressure measurements should always maintain certain values. For instance, baseline detrusor pressure should be 0 to +10 cm H2O. Baseline intravesical pressure for a standing patient should be 30 – 50 cm H2O, while baseline abdominal patient for a standing patient should also be 30 – 50 cm H2O.
When these baseline pressures are out of range, physicians should check whether the system has been properly zeroed, if air bubbles are present in the water lines, or if the catheter has moved. If this problem is not observed until after the test has been completed, testing should be repeated.
Vesicle / Abdominal Pressures Fall During Filling
During a cystometry test, abdominal and vesicle pressure measurements are obtained during filling and voiding phases. However, baseline measurements should never fall during the filling phase. The observation of steep or gradual drops in the filling pressure indicates poor data, as the urethral or rectal catheter has likely shifted in the patient. Physicians should monitor these traces throughout testing to identify any discrepancies and make the appropriate adjustments before the testing is complete.
Too Few Cough Signals
Regular cough signals2 are necessary for ensuring that pressure lines are functioning properly during urodynamic testing. Cough signal frequency should be once every 1 minute, or for every 50 mL of liquid infused into the bladder. In addition, cough signals should occur prior to filling, during filling, before voiding, and after voiding. Without these important cough signals, it is impossible for physicians to know with certainty that catheters stayed in place and that there were no issues with air bubbles in the lines.
Poor Quality Cough Signals
Even if the proper number of cough signals are displayed on the traces, it is important that these signals be of good quality. Cough signals can be assigned three grades: Grade A, Grade B, and Grade C, with Grade A being preferable. Grade A coughs are those which have a strong positive signal in the pves recording trace with a short x-axis time. A Grade B cough has a strong y-axis signal, but longer x-axis time (i.e. 4 – 5 seconds). Additionally, a Grade B cough might also have a strong negative y-axis component. Finally, a Grade C cough is one which has a weak or nonexistent signal, or is accompanied by baseline drift.
Poor quality cough signals indicate difficulties with quality control in the urodynamic testing facility. A high frequency of Grade C cough signals can indicate occlusion of side-holes in the catheter, or kinked tubing in the empty bladder.
Vesical Line Did Not Remain in Place During Void
Occasionally, the vesical catheter is displaced or voided during bladder emptying. This situation can occur because of poor fixation protocols or due to flexibility in the epidural catheter. In either situation, results should be considered poor if the catheter was displaced during this portion of testing, and the test should be repeated.
Ultimately, there are many reasons that urodynamic test results could be judged as poor. It is important that good quality practices are set in place, and that physicians recognize poor data before the test has been completed. Audits should be performed regularly to judge the overall quality of urodynamic testing, with updates to the testing protocol taking place as necessary.
BHN can help you minimize the chance of poor urodynamics test results. If you would like more information on how we can do this, click on the button below.

References
Schäfer W, Abrams P, Liao L, et al. Good urodynamic practices: uroflowmetry, filling cystometry, and pressure-flow studies. Neurourol Urodyn. 2002;21(3):261-74.
Sullivan J, Lewis P, Howell S, Williams T, Shepherd AM, Abrams P. Quality control in urodynamics: a review of urodynamic traces from one centre. BJU Int. 2003;91(3):201-7.