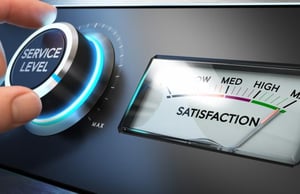 The effective provision of medical device field service is not a simple process to optimize. There are many factors that influence operations, from resources and technology to staff management and coordination. Field service organizations that keep track of all of these different factors manage to provide a seamless and efficient service and keep their customers satisfied.
But no business is perfect from the get-go. In most cases, a period of trial and error is unavoidable while getting a grasp of the intricacies of running and managing field service operations, especially when it comes to medical devices. Being aware of the most common mistakes made in the delivery of field service support can significantly shorten the learning curve.
With that in mind, here are some of the most common errors that medical device field service organizations commit while providing and managing their service:
Not leveraging the power of FSM software
Having the most up-to-date field service management (FSM) software is crucial for providing the best possible support to healthcare clients and facilities.


Whether it's tracking customers or contractors, scheduling appointments, delegating tasks, backing up data, creating invoices, or improving team coordination, an FSM software is an indispensable tool for the modern field service organization. It is a way to ensure fast communication and smooth operation, and the net result is enhanced customer satisfaction. Given that the medical device industry is constantly evolving, medical device field service organizations cannot afford to shun the latest that technology has to offer. It is therefore important to invest in creating the appropriate information architecture and service delivery platforms to ensure that all parties are connected and able to communicate seamlessly.

Sometimes, not finding the right FSM solution can be a hindrance to adoption. Research indicates that only 46% of the companies already using FSM solutions find that it delivers knowledge management, the primary reason for adopting the solution in the first place. Furthermore, only 34% report connectivity with technicians as a major benefit. This means that it is necessary to have a good understanding of your requirements and seek out an FSM solution that is in tune with your needs.

An often overlooked yet vital application of field service management software is staff training. Training new staff can be a long and arduous process. Providing them with a means to receive information from experienced technicians in real time or access virtual training modules at their convenience can significantly speed up the training process.
Not investing in mobile technology
This goes hand in hand with not having capable FSM software. Investing judiciously in the right kind of mobile technology can pay handsome dividends in the form of smooth operations and satisfied clients. Every field service organization should invest in a cross-platform mobile app that its entire field force can benefit from and look into how advances in technology such as the Internet of Things (IoT) can be implemented to the organization's advantage.
The versatility and multifunctionality of a field service mobile app makes it extremely useful for a wide range of applications. Obviously, it makes communication easier, but it also facilitates scheduling appointments, delegating tasks, and dispatching the right staff to the right place at the right time. Furthermore, the app can also be used by device end users to register any complaints they have with products and then track progress as their issues are resolved. Ideally, your field service management software would include an app that staff can download to their mobile devices. In some cases, organizations prefer to have customized apps built for them from the ground up that match their unique requirements. Not only that, organizations may go for custom-built FSM software as well. While such endeavors may present with substantial upfront costs, they almost always prove to be wise investments over time since well-designed software and apps can become the backbone of an organization's operations.
The IoT is the next big thing on the tech horizon. This has a special relevance with respect to the medical device industry. Industry players already have a knack for incorporating the latest technological advances and producing cutting-edge medical devices and products. In all probability, they will be among the earliest adopters of IoT. In that scenario, medical device field service organizations that are tech-savvy and familiar with the technology will have the upper hand. And for all practical purposes, smart IoT-enabled medical devices would only lead to a more streamlined field service, as they would report and update on problems automatically.
Not optimizing response time and other KPIs
Healthcare providers have many factors to take into consideration when deciding how to maintain their medical devices. One of the most important differentiating factors between companies offering field service is response time. For a medical device field service, failing to address this by not optimizing the response time can prove to be a critical competitive disadvantage.
Needless to say, it's equally essential to keep any eye on several other key performance indicators (KPIs). Common KPIs that medical field service organizations should keep track of include
Customer satisfaction
Total service revenue
Total service cost
Field technician utilization
Service contract renewal rate
Mean time to repair (MTTR)
Mean time between failures (MTBF)
Mean down time (MDT)
On-site response time
Overall equipment effectiveness (OEE)
Field technician productivity
First time fix rate
As the saying goes, "if you can't measure it, you can't manage it." Any good field service organization sticks to this principle by closely monitoring various aspects of performance and identifying the KPIs most relevant to them.
Not paying attention to customer effort scores
Speaking of KPIs, customer effort scores (CES) are another important KPI to consider. The score can be understood as a subset of the customer satisfaction KPI, indicating how easily a customer is able to obtain services from their service provider. In other words, it signifies how much effort the customer needs to put in to get the provider's attention. The CES is the best indicator of customer loyalty, a factor that organizations with eyes on long-term growth always take into consideration.
Not offering a variable cost structure
Variable costs, as opposed to fixed costs, are costs that vary with sales volume—a concept directly linked to patient turnover when it comes to the healthcare industry.
While larger clients and practices can manage having the majority of their costs being fixed because of their large volume of patients, this is not the case for smaller practices. Regardless of the size of a practice, fixed costs have been recognized as a business liability in any case. This is when partnering with other organizations or outsourcing becomes a necessity, as this brings the flexibility to operate with a variable cost structure.
The many benefits of a variable cost structure to medical practices include
Lower barriers to entry—The risk involved with entering the medical marketplace is reduced because of the lower capital cost allowed by a variable cost structure.
Ability to compete with larger practices—Variable cost structures allow smaller practices to compete with larger competitors by providing cost advantages and the ability to manage market fluctuations by adjusting their budgets.
Security—Variable cost structures make any market fluctuations manageable as opposed to fixed costs where a practice's operations are heavily dependent on the stability of the market.
Keeping everything in-house
Hiring subcontractors has many benefits. First of all, service requests can significantly vary from one period to another. Choosing to hire subcontractors in order to manage these fluctuations eliminates the need for having a large, costly team of full-time technicians who might not always have work to do.
It also allows for more flexibility, permitting field service providers to answer specialty calls through expert technicians when the need arises. Subcontractors are also cheaper. In-house technicians come with a whole set of additional expenses, such as recruitment, training courses, and payroll.
If you would like additional options on outsourcing parts of your field service work, click on the button below.
Overlooking the unique challenges of medical device field service
Specialized knowledge and training is required to operate, maintain, and service medical devices. Given the evolving trend of outsourcing field service, overall and in the medical device industry in particular, there are many third party organizations who claim to specialize in the delivery of field service. And they don't hesitate to take up medical device field service contracts as well. However, this is a niche industry which requires personnel with the right knowledge, skills, and training. It needs people with a clinical background and a good understanding of how machines operate in healthcare settings. Since medical devices are complementary tools to promote health, a familiarity with medical terminology, the aseptic technique, and clinical indicators of optimal healthcare is necessary.
We, at BHN, understand the intricacies involved with medical device field service and employ trained and experienced nurses who are not only very knowledgeable about medical devices, they are totally at home in clinical and healthcare environments. Our network of licensed nurses spans the entire country and we are able to provide the most professional service anywhere, anytime. Many firms are now coming to the conclusion that outsourcing field service is the best way to remain agile while at the same time cut costs and streamline operations. However, what most firms don't realize is that not every third party field service organization has the know-how to handle medical devices. There are many traps and pitfalls to avoid, some of which we have discussed above. Then why not go with a company that specializes in medical device field service—why not go with BHN? We understand medical devices like no one else.