I recently attended a statewide gastroenterology conference in Mississippi. I got to meet all types of interesting people, including accomplished doctors and their staffs. For this conference I compiled some data on anorectal manometry (ARM) reimbursement rates. Given gastroenterologist use of colonoscopies, I thought it would be useful to compare ARM reimbursements (CPT Codes 91120, 91122, and 51784) to screening colonoscopy reimbursements (CPT Code 45378). I was aware that ARM reimbursed at a better rate, but I was not aware it was substantially better. When looking only at National Medicare reimbursements, anorectal manometry reimburses at a 93% higher rate than a screening colonoscopy. In the chart below you'll see the trend of reimbursements rates both nationally and within the state of Mississippi over the last decade. As you can see, and as every gastroenterologist knows, colonoscopy reimbursement rates have fallen quite significantly and are expected to fall more in coming years. However, ARM shows a more stable reimbursement rate, especially in recent years.
---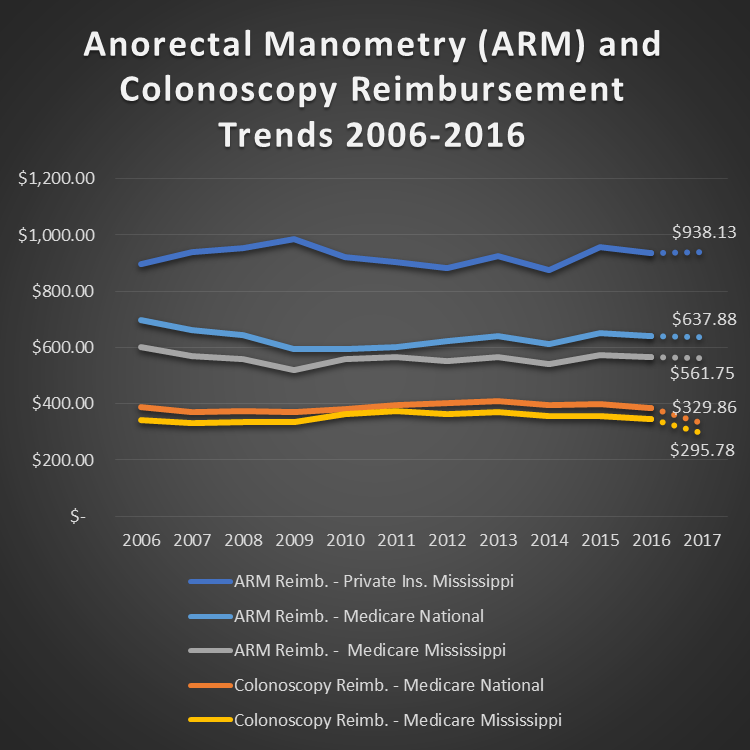 Chart Sources: Medicare data is from CMS.gov website; Screening Colonoscopy CPT code used is 45378 for all years. ARM CPT codes used are 91120, 91122, and 51784 with 51784 and 91122 modified with multi-procedure modifier (-51). Primary Mississippi Private Insurers included in dataset are Blue Cross Blue Shield of Mississippi, Aetna, First Choice, and AHS.
In addition, I attended a session on complications during screening colonoscopies. I did not have a full grasp on the statistics for this. I did not realize one in two thousand (1:2000) patients typically incur a perforated colon due to colonoscopy procedures, and of the ones that do incur a perforated colon, approximately 20% die. ARM certainly does not incur the same risk. I am certainly not downplaying the importance of colonoscopies, but when one considers the higher reimbursement rates and the significantly lower risk, I am always puzzled by the fact that more gastroenterologist do not use ARM in their practices to aid in diagnosing the underlying causes of chronic constipation and fecal incontinence. It is possible that gastroenterologist do not use it more because they are concerned about relationships with local gastrointestinal surgeons that currently perform ARM, and they do not want to upset their relationship with their fellow surgeons by appearing to compete with them. However, I believe this situation is going to change in the near future for two primary reasons. First, the reduction in colonoscopy reimbursement rates will push more gastroenterologist to look for new ways to generate revenue. Gastroenterology practices will be adding other diagnostics to generate revenue, and ARM is one of these diagnostics. Additionally, due to the U.S. "age wave" phenomenon, fecal incontinence will be an increasing patient occurrence, and gastroenterologists will have to include ARM to be properly handle this demographically driven demand increase.
Furthermore, with the Medtronic InterStim solution for fecal incontinence gaining more traction, I see more gastroenterologist adopting Interstim. Given InterStim's effectiveness for fecal incontinence treatment and InterStim's reimbursement rates combined with the usefulness and reimbursement rates for ARM, the adoption rate for ARM will be pushed even faster.
I welcome your thoughts on my assertions above. If you are interested in BHN's Anorectal Manometry solutions, click here.
---