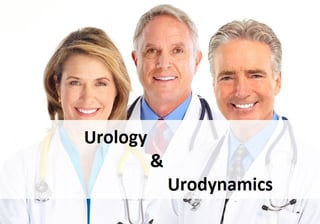 The term outsourcing tends to have a negative connotation, with immediate thoughts of lost jobs to lower-income workers. However, in the medical field there are many reasons to outsource certain tasks and testing, which not only saves costs but allows medical personnel to have a more singular focus throughout their workday. Here, ways in which a large urology practice should outsource urodynamics by utilizing a qualified vendor to provide diagnostic testing will be discussed.
Ambulatory Diagnostic Testing
One way a large urology practice can outsource urodynamics is by hiring an ambulatory company to provide equipment, supplies, staffing, and interpretation software for diagnostic urodynamics. In this manner, a company which specializes in urodynamic testing comes to your office (or a satellite location) and provides the testing. The advantages to this type of outsourcing are diverse. Costs are greatly reduced, as the vendor provides equipment, eliminating capital investment. In addition, outsourced urodynamic testing is complete with trained staff, meaning a physician will never have to worry about the best-trained nurse not being available, or spending money towards professional development in this area. Ultimately, one of the biggest advantages of ambulatory diagnostic testing is the consistency in quality control and interpretation, as the vendor will have strict standards and access to the latest technological advances.
By allowing testing at satellite locations in this manner, patients are more likely to show up for appointments when the central location is far from their residence. This method also prevents redundant or underutilized equipment, particularly if the urodynamics vendor travels to each satellite location at regular intervals. When urodynamics testing is removed from the central location entirely, physicians and staff are then able to focus their efforts entirely on key areas of treatment and care.
Variable vs. Fixed Costs
A large urology practice should consider outsourcing urodynamics to change the balance of variable versus fixed costs within the practice. Fixed costs represent costs that do not change, such as those associated with paying off equipment and office space. Variable costs, on the other hand, represent those which change as a function of demand. For instance, if it costs a clinic $X to perform a test, the monthly cost for that test will depend upon how many patients required testing in that time frame. If paying off equipment (i.e. a fixed cost) is dependent upon revenue from variable costs, slow business can significantly impact the practice's cash flow. Therefore, it is important to reduce the number of fixed costs in favor of variable costs, so that keeping a medical practice's doors open does not depend upon flow of patients.
Outsourcing urodynamics testing to a qualified vendor is a way to make a larger portion of costs variable. Since the urodynamics vendor owns the equipment (rather than the practice), the fixed cost of urodynamics supplies is eliminated. The same is true for interpretation software and staff training, which relieves burdens from overworked nurses.
Advantages of Outsourcing
There are clearly many advantages to outsourcing urodynamics testing for large urology practices. One is cost reduction. From equipment and software to specialized staff, physicians can immediately reduce their fixed costs by outsourcing diagnostic tests and avoiding capital investment.
A second advantage is process improvement. Certain urodynamics tests are performed infrequently, which means that equipment is rarely utilized or may even be outdated. By outsourcing these tests, advanced technology is always utilized, as well as the latest interpretation software and techniques.
Finally, outsourcing allows staff to have a clearer, more defined focus in their daily work routines. Instead of forcing staff to be a jack of all trades, nurses and physicians can hone their skill sets in well-defined areas, allowing for expertise in critical areas, with access to external skills.
Disadvantages of Outsourcing
Outsourcing, however, is not without drawbacks. The company that a physician chooses for outsourcing is crucial. Care should be taken to look for transparency, such as a vendor that allows for physicians to be part of the quality control process at any given time. Confidentiality is another concern, so it is necessary that vendors are committed to adhering to HIPAA and carry the proper levels of cyber security insurance. Liability is another physician concern, so it is important to look for a vendor that works at a client's facility and has ample liability insurance. Finally, companies must be flexible, as medical practices are in a constant state of flux.
Overall, the advantages of outsourcing outweigh potential drawbacks, and large urology practices can save time and money while improving quality control by outsourcing urodynamics testing.
If you would like a quote on outsourcing your urodynamics testing, click on the button below.