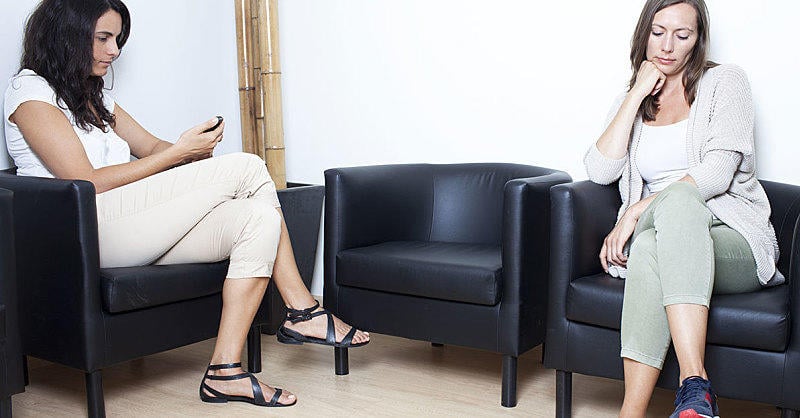 There's no real love for waiting rooms. Call it the perpetual suspense, the white-coat syndrome lingers behind all modern chic designs. It's time for practices to generate a greater practicality and explore deeper into human psychology behind waiting room worry. Annoyance at best
The NCBI journal of waiting room experience cites a general annoyance in many visiting patients. Visiting a practice takes away from a busy work schedule, family management and other life activities. Sometimes the procedure even requires an entire days inconvenience if tests must be run and medications must be administered.
Wait times average as of August 2018
For wait times to be optimized efficiently, a practice must have a rough estimate of their averages. The University of Arkansas for Medical Sciences has recently released a research brief on obstetrics wait times. You may read the report in full at this link.
This study determined that wait times reflect the practice's staffing at various times of a operating day. With simulated scenarios, they determined an average 16-minute wait per the majority of the day. They determined a 19-minute wait in the morning hours. This simulated research also determined and average of 16 morning patients and 12 other hours per average present staff.
The staffing cannot always be immediately and practically remediated. For this reason, incorporating better use of patient wait-times can improve the overall experience provided by OBGYN practices.
An opportunity for questionnaires
Rather than filling the patient's downtime with distractions like TV and magazines, practices can capitalize on that extra time by providing validation screens for the patient to answer interactively. These questionnaires will help the patient speed the diagnosis and treatment plan decision process without feeling rushed.
Frequently survey
Another way to improve the patient experience, is to simply ask the patients themselves. Providing frequent follow-up surveys about patient experience will keep your patients in the loop. Feeling represented sometimes is enough to smooth over patient displeasure about certain situations.
Age demographic variables of survey
The various ages and needs of OB/GYN practice patients will be a determining variable in wait time success/failure. Use this time to carefully assess your patients. Frequent forays into survey, will determine your practice's predominant age demographic.
The attention span of wait span duration for Millennial patients will be far less than other age demographics. We base this theory on research by Patient Point. The brief they conducted determined 86% of Millennial patients had already conducted a health-related search prior to seeking physician attention. Which means that, in most cases where the Millennial patient has come in for a specialized need checkup, they have already had their eyes on diagnosis screening material. This increases the challenge practices face in conducting pre-care screens.
A process of elimination
A process of elimination is in order during the pre-fabrication of practice screenings. For one, the above research determined 80% of patients will view Pay-Per-Click (PPC) ads during their health search. A working knowledge of trending products in this space will eliminate some of the repetition. Your greatest challenge is to offer something that stands out as more than market hype among peer reviews. The average marketplace consumer may be skeptical about trying an ad-related product. To build a rapport with customers, you will need to make recommendations that reflect both authority and marketplace conscientious observation.
Using social media
Where 80% of the reflected patients were viewing ads, only 60% of practices were citing social media as invaluable to patient experience. Yet social media is the grounding environment for PPC ads and open forum. This could mean that there is a 20% gap in patient market review and practice social media leveraging, assuming that the ratios of patients to practices were equal when percentile was confirmed.
That 20% is your golden gate for opportunity. Don't assume like many of your peers that social media is an off-limits zone for healthcare discussion. If the internet had townships, they'd be in the social media sphere. That's the perfect place to establish a cyber-connected virtual version of your practice, complete with your own digital classifieds. If your patients are already doing their pre-consultation research on your handles, half your work is done before they come to your doorstep. The rest of that time can be used with more interactive pursuit of better treatment. Enter the space where the patient persona becomes a personalized endeavor.
Ethics of patient persona implementation
Even in solutions, there are risks and struggles. We see the incline of this as patient persona options develop. Ethics struggles began to reveal themselves around Triple Aim's population health goals developed in 2017.
Some of these ethics crises are being handled with legislative mandate. In California, hospitals who fail to meet certain ethics standardization requirements will lose network representation status. This will include eliminating procedures deemed "unnecessary" by the new standardizations. For hospitals, this will include C-section procedures, MRIs, CT scans, MRIs and various other back pain treatments that are not completely founded in the patient's individual treatment personalization. This puts an added strain on OB-GYN private practices to provide necessary services that also compete with other specialist practices.
The OB-GYN will be called on to correct the problems penalized hospitals create. Primarily because statistics taken as of 2017 reason OB/GYN practices can see more patients than hospital owned establishments. You can view this research here. This logic creates a surplus of diverted and previously disgruntled patients at your practice. It drives a new demand for previous service failure rectification.
Special regards to children's areas
For a family OB/GYN practice, this will be nearly as important as the questionnaire engagement. Many women who visit your practice are already busy mothers. A safe, sanitary and engaging play area is crucial to converting a one-off patient to a lifelong one.
Provide hard toys for an easy disinfection process. Fall proof any indoor playground material that may be installed. It is also important to provide nets or some other method of easy toy collection to reduce the risk of accidents. Overall, a productive child play area will take away the anxiety of bringing children into the crowded waiting room experience.
Pagers and refreshments
Some States have taken progressive steps toward waiting room improvement. In California, it is common for practices to distribute pagers to patients. This was inspired by Applebees. If the practice is situated in a metropolitan area, the patient can run a few errands while waiting. The pager will buzz them to let them know the practice is ready.
Another progressive idea has been to provide health conscious refreshments. Some practices have introduced a token garden, providing free produce to browse through. This is not entirely new ground. Many hospital CCUs have always incorporated breakfast stations. Whenever applicable, a small refreshment station may distract patients from the overall stress of a practice visit. You can read a full review of these ideas from CCI.
Concierge/staff introduction
Another progressive idea gaining some popularity is a patient concierge service. This creates an atmosphere where booking staff are placed in the waiting room along with patients. They are there to make introductions and answer questions. Learn more here.
Specialized concierge for OB/GYN
Some innovators have even taken a specialized route into concierge for OB/GYN. There is a modern service called Concierge Pregnancy that provides 40-week consultation for expecting families. This type of program places patients with a personal OB//GYN. The idea behind this is to institute an old-time midwifery atmosphere into modern maternity care.
Endometriosis targeting
Some conditions like endometriosis exacerbate waiting room anxieties and frequencies. In these cases, it's important that staff of your practice create an atmosphere that promotes endometriosis early-diagnosis through targeted screening questionnaires. Endometriosis is a chronic pain condition that may also require additional life coaching. It's important to provide literature or source material on the patient available tablets for all the facets of endometriosis care.
Concierge for traumatized patients (pediatric/adolescent)
Concierge may need to be trained in recognizing patients who suffer from some form of domestic or sexual abuse. These situations can cause a complex system of triggers that are socially difficult to categorize.
The range of care upon admission will vary depending on patient age demographic. Recognizing signs of patient PTSD can help concierge reduce potential triggers in the waiting room. This will greatly promote the overall waiting room experience.
For pediatric and adolescent gynecology, consulting the UNICEF guide for youth sexual abuse care is indispensable. You may see the literature here. This literature assists with survivors under the age of 18. This literature may also help practice concierge understand the basic guidelines for accommodating a survivor's case worker. A patient may need to be guided through the entire appointment process. By adapting to and acknowledging these instances, practices will greatly enhance the atmospheric memory in a trauma survivor's experience. This trust-basis will open the door for like cases to find refuge in your establishment.
Trauma disclosure, adults/prenatal
The American College of Obstetricians and Gynecologists has conducted research into formulating sexual/domestic abuse case files for every practice patient. You may read the literature here.
As the research progresses, practices will need to decide how the service toward disclosure is handled. It may be beneficial to have concierge make patients aware that an abused history report will be part of her visit. The concierge can act as the service provider who alleviates the tense questioning the patient anticipates. It may be helpful for the concierge or the waiting room staff to have discreet mental health referral placed within the waiting room itself to open the door of discussion.
In the case of survivors of ongoing abuse, the waiting room is also a safe place to place referral materials for emergency evacuation. The concierge may want to mediate this process. The material itself could act as one of the unavoidable triggers of victimization if not introduced effectively. Anticipation of inquiry could be as great a stressor. It is important for practices to use their discretion when introducing the trauma control staff to each patient.
A setting of comfort
It may go without saying, but the waiting room is a structural portion of the practice that needs special comfortability investment. Waiting rooms are notorious for overcrowded discomfort which adds to the undercurrent of stress and general modesty that underscores OB/GYN practices. Providing an open structure with well-spaced seating and comfortable furniture is a common courtesy of patients. The comfort should perhaps even outweigh the stylishness. Consider designs that use low and neutral tones to offset a mood of placidity.
The voted best care of waiting room design thinks thematically. Some practices will add decoration and refreshment themes for every calendar holiday. Adding tones that communicate special design fosters a better relationship for the patients. The care is felt in the cleanliness and liveliness of they occupy longest in your care.
Some practices also provide television sound proofing. This communicates a sense camaraderie among fellow patients. Headsets for available TVs allow patients to watch without disturbing other more anxious patients. Some practices even provide fireplaces and books. This adds the atmosphere of a local cafe or library. If the guest feels they could have come here for leisure, they will be less distracted by the glaring medical overtone of the establishment.
Staffing team-ups to reduce worker stress
No matter how well-established the waiting room hospitality is, a stressed-out staff will communicate a stressed environment. Promote team-ups between staff during ratio maxed times. Have booking or concierge employees share responsibilities and tag team in any way applicable. This will reduce the dispersal of talent across the practice. With burdens shared and lessened, your staff will become a more functional unit. This team work is communicated back to the patients in the well-engaged waiting room. If they know they are well looked after in your care, they will relax.
Final note
Patients are the key investment to every practice. The more you devote to forming lasting connections with recurring visitors, the stronger roots you foster. This is the beautiful benefit of a waiting room furnished for people first. With art, practice, professionalism and creativity, this will become a seamless part of your operation.