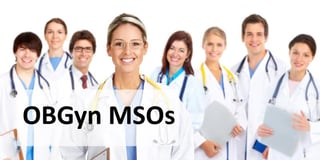 With recent changes to healthcare and reimbursement, interest in management service organizations (MSOs) has increased. In years past, these services have been met with caution, as they were judged to create more risk than reward. However, recently that balance has shifted. Here, ObGyn MSOs will be discussed.
What is an OBGyn MSO?
An OBGyn MSO is a management service group created to provide both management and administrative services to OBGyn physicians. This MSO is owned either by a group of OBGyns, a hospital, or investors that work in conjunction with OBGyn physicians. The main purpose of OBGyn MSOs is to provide management and administrative support services to both individual OBGyns and group practices. With an MSO, physicians can be relieved of non-medical business functions that will allow them to better focus on the clinical aspects of their business.
Services Provided by OBGyn MSO's
There are numerous services provided by OBGyn MSOs. For instance, healthcare reform such as MACRA and MIPS have created barriers for small practices, which can be difficult to manage. Oftentimes these practices are not equipped for both understanding and managing the complexities associated with these reforms. An MSO can educate physicians as well as help to implement the new processes without over-burdening doctors.
Second, a traditional role for MSOs is contracting with insurers. With reimbursements at an all-time low, contracting skills are useful which also frees up time for physicians and staff to perform other basic duties.
Third, MSOs can serve as the nucleus for Population Health or Clinical Integration. Their analytic services can provide additional support to physicians that traditional staff are otherwise not equipped to handle.
Fourth, MSOs can provide educational opportunities for managers of an OBGyn staff. These educational programs can address trends as well as the core skills that managers require.
Fifth, MSOs can provide business development services. A single OBGyn practice would often find it difficult to hire high level MBAs that are able to develop unique strategies for generating business and finding new service offerings. However, due to MSOs' scale, they can often provide the necessary entrepreneurial skills needed to grow a business and launch new service lines. Our company is working with the business development arms of several MSOs to roll out new diagnostics services, like urodynamics testing, to many MSO ObGyn sites. This provides the MSOs' sites with additional ancillary services to offer that are both accretive to revenue and valuable to their patients.
Additional services provided by OBGyn MSOs include help with operational issues, financial management, management of human resources and personnel, coding, billing, collection, managing of office space, oversight of regulatory compliance, risk management, and group purchasing.
Advantages of OBGyn MSO's
The advantages of OBGyn MSOs are vast. Due to the expert services that MSOs provide, physicians and staff can better focus their attention to aspects of their jobs that require specialized care. This aspect is especially true for physicians that struggle with too much responsibility in terms of caring for clients while also keeping their businesses afloat.
Since MSOs purchase their services as a group, they can pass on cost savings to physicians thanks to economies of scale. This advantage is useful when negotiating with healthcare purchasers. Examples include outsourced billing, reduced price equipment leasing, malpractice discounts, and shared staffing.
While the benefits of MSOs vary based on individual group, some provide benefits in addition to business management services, such as the leasing of buildings, equipment, and supplies. In these instances, physicians own their medical records and health plan contracts while still practicing in their own offices. The advantage here is that OBGyns are relieved the stress of asset management.
Limitations of OBGyn MSO's
Despite the many advantages, there are also limitations to OBGyn MSOs. Physicians should fully understand the agreement between a practice and an MSO. For instance, an MSO may engage in billing and collecting from insurance companies, but might not manage patient collections. For some physicians, the terms for termination and the amount of notice required can be stifling – especially regarding the buying back assets or returning billing operations in-house.
The act of entering into an agreement with an MSO can require massive up-front time investment for a physician. Although, in theory, an MSO is likely to provide a time savings in the long run, the initial negotiations and review (including legalities such as signing contracts) represent a large chunk of time.
A common complaint of physicians utilizing MSOs is a mismatch between the culture of the medical practice and the culture of the management service organization. Many MSOs seek to maximize profits while minimizing costs, which can result in a new level of service that may be viewed as substandard. It is important to find an MSO that has the same values as the physician without wasting resources.
Finally, MSOs will implement their own software, hardware, and IT services, sometimes to the detriment of staff who have come to understand a different system. This transition can be difficult and time-consuming, leading to frustrations. Although MSOs provide many beneficial services, there are disadvantages as well. OBGyns that are considering an MSO should fully weigh each variable.