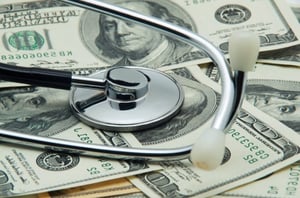 If you ended up on this blog post, you are probably thinking about buying urodynamic equipment or are evaluating purchasing options. If you are, I am going to lay out an argument for not buying it. As with purchasing any medical equipment, there are many hidden pitfalls. I want to lay out some of these pitfalls and detail an alternative to buying urodynamics equipment.
When buying any piece of equipment, you often inherit hidden liabilities and costs.(1) The first set of liabilities is setup, maintenance, and upkeep. It is no simple task to keep medical equipment running correctly. Urodynamics equipment is sophisticated and relies on complex software. The machine has to be regularly maintained, and the software may have to be updated as well. Even if you do purchase an extended warranty or a support plan, it still requires significant time from you or your staff to keep it running.
You will likely have to acquire a maintenance plan, which is costly. Without it, you will be alone on a proverbial deserted island if you do have problems. Base warranties typically last for one year on new equipment, which means you will need an extended warranty or service plan beyond the one year mark. Keep in mind that equipment makers view extended warranties and maintenance contracts as profit centers. Assuming extended warranties and maintenance contracts are similar to those in other industries, equipment makers expect to make 50% to 60% profit margins on your service contract spending.(2)
Urodynamics equipment, like many types of medical equipment and office equipment, just isn't made like it was in the past. In today's world of cheap imports and cheap sub-components, equipment just doesn't last as long as it used to. Before you know it, you will have to upgrade components or trade up to a new unit, which is costly and time-consuming. One misconception among medical equipment users is that vendors are required by law to provide parts and support for up to seven years after a product line is no longer being marketed.(3) Although this is good vendor customer service, vendors aren't required to do this. This leaves users with no legal recourse when vendors declare a product line obsolete unless a technology support timeline has been agreed upon at the time of the purchase.
When new equipment is put into place, you must perform additional training for your staff. Urodynamics equipment it's complicated, and a new piece of equipment will require extensive training. Additionally, newly trained staff must have ample repetitions before they are proficient, and it is safe for them to perform urodynamics testing. This required formal training combined with hands-on training is costly and time-consuming. Furthermore, in today's tight labor market, the average tenure of a typical urodynamics nurse is 1 to 3 years. It typically costs $4,000 to $6,000 to fully train a nurse and provide the procedure repetitions for the nurse to reach full proficiency(4). Therefore, you can expect to spend this additional $4,000 to $6,000 every 1 to 3 years, which adds to the cost of the equipment unless you perform a large number of urodynamics procedures and can justify hiring a fulltime urodynamics nurse that already has experience. However, hiring a nurse with urodynamics experience can often take four to six months due to the rarity of urodynamics skills in the job marketplace.
Used medical equipment is worth almost nothing. Have you tried to sell a piece of used medical equipment recently? If you have, you are lucky to get cents on the dollar. Most of the time is not worth your time to try to sell a piece of used medical equipment. It takes more time to find a buyer than it is worth. Your accounting department may depreciate your urodynamics equipment over five years, but it is worth close to zero the day after you buy it.
Buying urodynamics equipment effectively locks you into a supplier of urodynamics disposables. The seller of the machine might tell you that you can use multiple different vendors for disposables, but if you try to dig in and switch disposable vendors, you will find yourself out of luck or having to jump through numerous hoops to transition to a different supplier. Once you purchase the equipment, you are locked in, and you should expect the prices for your disposables to regularly creep up (especially if you are buying smaller quantities). We get dozens of calls every month from practices looking to find different vendors to provide urodynamic catheters.
Purchasing medical equipment increases your fixed costs, which in turn limits your flexibility. In today's medical world, flexibility should be a priority. Imagine how quickly a medical practice or department could change if it owned minimal equipment and all of its staff were contractors. A practice like this could change rapidly. For example, it could scale up or scale down quickly, or it could easily discontinue a line of service that was no longer useful or profitable. I regularly encounter practices that have enormous fixed costs – they own the building they are in, have massive amounts of medical equipment, are overstaffed, and so on, which leads to constant cash flow problems and prohibits the practice from changing with the changing marketplace. (5)
I hope the above makes you think deeply about your purchase of urodynamics equipment. Now that I have you thinking, I would like to offer you an alternative. You do have the option to use a service provider to perform your urodynamics testing. There are numerous such service providers across the U.S. By using a service provider, you can "outsource" all of the issues outlined above to the service provider and the service provider will handle each issue for you – freeing you to work on other pressing parts of your practice or department.
Brighter Health Network (BHN) is such a service provider. BHN provides a turn-key service that includes the equipment, staff, disposables, and a compiled report for each patient. Effectively, BHN allows you to put urodynamics on autopilot, avoiding all of the negative attributes listed above. The benefits are:
You avoid capital expense. There are no capital costs when using a urodynamics service provider.
You don't have to maintain the equipment or worry about the equipment becoming obsolete.
You don't have to purchase an additional support or maintenance plan.
You don't have to train or retrain staff.
Since you don't own the equipment, you avoid the loss caused by a rapidly depreciating asset.
You do not have to worry about being locked into a vendor for urodynamics disposables. You could reverse course and buy equipment later or switch vendors anytime.
You increase your practice's flexibility because you can go in a different direction at any time.
If the technology changes, you don't have to worry about it because your vendor is on the hook to sort out the changing technology.
Best of all, your organization will make a substantial profit while avoiding each pitfall.
BHN is the largest urodynamics testing service provider in the U.S., serving over 300 practices and hospitals across the country. If you would like to know more, click on the button below.
References
(1) Cindy Juhas, "Uncover the Hidden Costs of Capital Equipment Purchases", The Journal of Healthcare Contracting. Link
(2) Jose Miguel & Abito Yuval Salant, "The Effect of Product Misperception on Economic Outcomes: Evidence from the Extended Warranty Market". Link
(3) James Laskaris, "Medical Equipment Obsolescence: What You Need to Know". Link
(4) Based on Brighter Health Network's internal costs for recruiting and training a new Urodynamics Nurse.
(5) Steven Nicklolas, "Variable Cost vs. Fixed Cost: What's the Difference?". Link