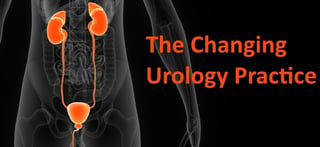 Urologists must continually change with the times in order to ensure their survival. While other practices see little change in general clientele throughout the decades, urologists must continually evolve in order to keep up with current market trends due to the relative elective nature of their service. Here, a few areas in which urology practices will change over the coming decade to reflect technological advancements, politics, and the changing economy will be discussed.
Urology and Changing Demographics
For many urologists, their core group of patients are aging baby boomers. Problems affecting the bladder and prostate are most common, with the majority of patients over the age of 50. Today, approximately 60 million baby boomers remain; however, within the next 10 years the number of Americans in the 50 – 80 years old age bracket is expected to decrease dramatically. This shift may result in fewer patients, and the need for urologists to become more creative in their advertising and care, particularly towards the largest generation: millennials.
Changing Business Practices
In the past 10 years the number of urologists in solo practice has significantly decreased. Between 2006 and 2012, the number of urologists in solo practice dropped 8%, while the number of urologists in group practice grew 14%.
Staying in business as a solo or small practice will be difficult over the next decade, particularly with the uncertainty surrounding the future of insurance coverage for disadvantaged Americans. At present, a major hurdle for private practices is the dependence on insurance-covered services. Patient volume matters, and solo practices have a difficult time attracting patients that require ancillary care, such as radiation therapy. Therefore, joining a large group or hospital will be able to help the solo urologist survive the impending changes, such as the potential reduction of Medicare / Medicaid coverage for aging and disabled Americans.
For urologists not interested in joining large urology groups, broadening their clinics to reach a larger patient base will be necessary. Partnerships with local or regional hospital networks will aid in this endeavor. More urology practices will begin to offer service-line expansions, such as drug infusions, diagnostic imaging, clinical research, radiation, pathology, and surgery.
Additionally, urologists will develop specialty clinics in-house to focus on particular diseases or complaints, such as prostate cancer. Ultimately, urologists will have to combat the future of declining payer reimbursements, increased regulations that result in higher business expenses, an increased involvement in patient care by the government, more competition, and the general market trends.
One large change that urologists will have to address is the manner in which they advertise. In an information-overloaded culture rife with competition, getting through to a target demographic can be difficult. Targeted social media marketing will be important in the next 10 years, perhaps more so than ever.
Similarly, urologists (and all physicians) will have to dedicate additional resources toward managing and improving their online reputations. According to recent studies 88% of patients trust online reviews as much as they do personal recommendations. This means urologists will have to invest time and marketing dollars improving their online reputation and generating positive reviews.
Outsourcing is another factor that needs to be addressed and adopted. With higher expenses and a changing business environment, many urologists may need to outsource some of the services they offer in order to more wisely deploy their investment capital. Outsourcing is a way to defer capital (and human capital) investments, which will allow urology practices to remain more flexible and capable of dealing with future changes.
If you are interested in improving your practice by outsourcing certain fuctions (like urodynamics), click on the button below to get more informaion.
Changing Technology
Technological advances, both in patient care and administration will change urology practices within the next decade. While patient messaging and the use of interactive patient portals for test results and blood work are already common, the next decade will see more urologists engaging in videoconference appointments with their clients instead of in-office visits. Many states have already adopted regulations that require insurance companies to reimburse telemedicine (i.e. video conference) office visits at the same rate as face-to-face office visits.
The development and refinement of mobile apps will also change urology practices. Although there will never be a replacement for in-office visits, mobile apps may be able to entice clients into coming in and receiving screening tests, just at the touch of a button. Social media and apps will soon be able to help patients diagnose potential urological problems such as incontinence. For patients involved in clinical trials, apps will better streamline the manner in which doctors and researchers receive data regarding the health of their clients.
A new technological frontier is neurostimulation, such as implantable devices that control electrical impulses to and from nerves in order to treat disease, such as overactive bladder and chronic pain. The greater availability of such devices will change the way in which urologists treat their patients – for the better.
Perhaps the area in which the most advancement will be made is in surgery1. At present, a number of surgical advancements are being developed. Improved methods for sensing and visualizing sensitive areas of the patient's anatomy are making surgical treatments more reliable than ever before. Advancements in the transplantation field are also looming. Bioartificial kidneys2, livers3, and bladders that contain human cells could cause huge changes to the urological field – but also new challenges as they make present urology services obsolete.
References
Autorino R, Zargar H, Kaouk JH. Robotic-assisted laparoscopic surgery: recent advances in urology. Fertil Steril. 2014;102(4):939-49. Link
Humes HD, Buffington D, Westover AJ, Roy S, Fissell WH. The bioartificial kidney: current status and future promise. Pediatr Nephrol. 2014;29(3):343-51. Link
Park JK, Lee DH. Bioartificial liver systems: current status and future perspective. J Biosci Bioeng. 2005;99(4):311-9. Link