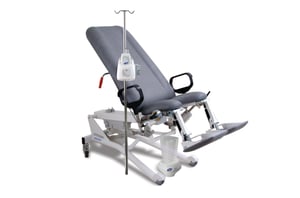 Urodynamic services can be added to your medical practice to help increase your net income. The reason for this is that additional urodynamic services can increase your revenue by increasing the cost of the service and lowering reimbursements.
Before you decide to add extra services to draw in potential patients, you'll want to ask yourself five distinct questions. These questions can help determine if adding additional urodynamic services can benefit your business.
Q1: Will Urodynamic Services Compliment Your Practice's Brand?
While urodynamic services can draw in new clientele, you'll have to remember that a healthy business model needs to provide complementing services. So, before you decide to add urodynamic services into your practice, ask yourself if it makes sense with the other types of services that you offer. It's only logical that you provide your clients with services that relate to what they see you for. Think of it similarly to having a plastic surgery medical practice. You can sell additional services that relate to health and beauty, such as skincare, cosmetics, or health supplements. However, if the plastic surgery practice started to offer urodynamic services, it wouldn't make much sense. Always make sure that adding additional services falls under the scope of your business model.
Q2: Are Urodynamic Services Needed Within Your Area?
One of the most important factors when deciding to start your urodynamic services is to determine if these services are in demand in your area. When starting out, you'll want to retain specific demographics and characteristics of a practical urodynamic service. So, before you decide to add additional services, you should consider asking your staff to poll patients if they are interested in these services. This may help you get an estimate as to how many people will sign up or transfer to using your services.
You'll also want to factor in how many practices, if any, are offering urodynamic services within your area. If there are only a few practices offering urodynamic services in your area, it may be beneficial to start offering these services. Figuring out what services are already available within your area can help determine what type of services you should add. This includes offering different kinds of treatment, testing, and medications.
Q3: What Are the Total Investments Required to Run & Start Up Urodynamic Services?
Keep in mind that starting up a business is much different from maintaining a business. To start offering urodynamic services, you will need to factor the costs of setting up equipment, hiring new staff, and the cost of maintaining those services. Hiring healthcare professionals that have the correct licensing and certificates will be key to your success. You will also want to gather information pertaining to additional licenses required to perform urodynamics and even how to afford advertising and promotions. Getting the costs figured out is what can make or break your business. Be sure to have everything planned and figured out before you even implement the services.
Q4: How Much Return Will You Get On the Investment?
You won't have to make a detailed analysis of the turnaround on your investment as long as you can get a general idea of the profit you'll make. You always want to make sure that the investment is worth installing, otherwise, there is no point. A small calculation is fine as long as you can estimate the total cost of setting up the service, continuing to maintain the service, and how much profit you'll be making. Also, make sure that you don't overestimate because it's rare that you'll be making top dollar when you start out.
Q5: Are the Benefits Worth Your Time & Money?
The last factor to determine is to predict whether adding these services will be worth the investment. Outsourcing urodynamic staffing and/or testing services can be a great solution to reduce upfront expenditures, such as purchasing your own testing equipment and hiring additional full-time staff, while increasing your practices profitability as well as proving additional services for your patients.
In Verdict
Adding extra services can be highly beneficial if you want to expand your clientele or if you want to offer more services to your patients. Adding urodynamic services to your medical practice can not only earn you extra profits but also will make it easier for your clients by providing them with multiple services in one convenient location. Always try and get the most accurate estimates on costs before you invest in starting up additional services. You want these services to bring in more customers and additional revenue. You can't do this if you're spending too much money to start up and maintain these services.