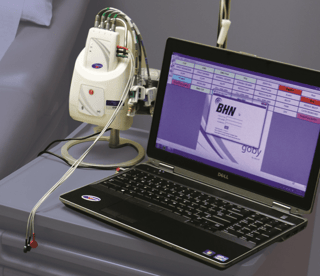 We are often asked about urodynamics equipment manufacturers that provide equipment in the U.S. We get several calls, emails, and social media inquiries a week regarding this. We summarize the primary providers in this post. We own and operate equipment from all of the manufacturers below, but the primary equipment we use is made by Laborie.
In addition to thinking about urodynamic equipment options below, you may also be interested in the urodynamic testing services we offer. Our services include the equipment (we bring it with us) so you do not have to purchase, maintain, or calibrate it. If you would like more information on our urodynamics testing services, click on the button below to get details and pricing.
Urodynamics Equipment Manufacturers Listing
Company / URL

Summary

Equipment

Laborie Medical

Laborie is the largest maker of urodynamics equipment. Laborie offers several models, but its most popular model is the Laborie Goby. As of August 2016, Laborie is now owned by the large Swedish conglomerate and Private Equity firm Investor AB. Laborie is also the owner of TDOC Catheters, which is the most widely used air-charged urodynamic catheter. Laborie's equipment primarily operates using the TDOC catheters.

The Prometheus Group

The Prometheus Group is the maker of the Morpheus, which is its primary multi-channel urodynamics machine. The Prometheus Group is privately owned and is based in New Hampshire. The Prometheus Group also offers several related pelvic muscle rehab products.

Cooper Surgical

http://www.coopersurgical.com/Products/Detail/lumax-fiberoptic-cystometry-system

Cooper Surgical is part of Cooper Companies (Ticker: COO) which is a large publically traded medical device company that operates in several medical specialties. Cooper Surgical's primary urodynamics equipment is the Lumax(or Lumax Pro). Cooper Companies is headquartered in Pleasanton, CA just east of San Francisco.

Ashlar Medical

Ashlar Medical is a relatively new entrant into the urodynamics equipment market. Ashlar now offers rediCADDY®, which is a newly designed very compact unit. Interestingly, the rediCADDY is the only system that operates exclusively on water-filled catheters made by Mediplus.

SRS Medical

SRS Medical is the maker of the EasyPro Urodynamics System. SRS Medical is most known for its UroCuff equipment (for male testing) and its Spanner stent product. However, its EasyPro system is very functional and rather in inexpensive.
Alternatively, if you are committed to purchasing equipment and need help with training staff or staffing your urodynamics operations, you may be interested in our staffing options. If you are, click on the button below to receive a quote on your staffing and training needs.
If you want more information on urodynamics equipment, you may be interested in our Urodynamics Equipment Buyers Guide. The Buyers Guide does not cover the rediCADDY since it is new, but we plan to revise it once we get additional information on it.